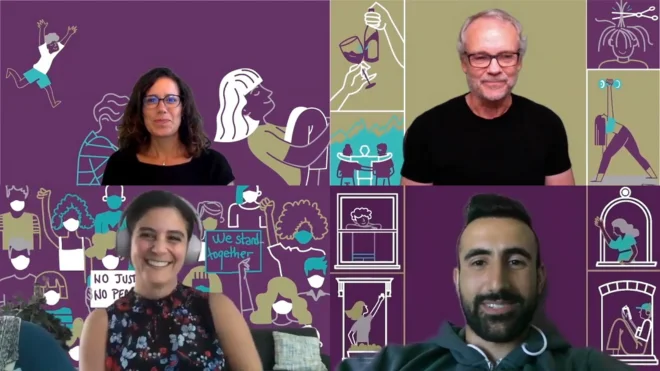 You've seen the SNL sketch. You've been Zooming day in, day out. You've seen your colleagues changing their virtual background, sometimes to a tropical beach, sometimes to a scene from a movie, or a popular tv show (Seinfeld, anyone?).
Changing your Zoom background is sort of like decorating your desk—a way of expressing yourself. You can support a cause, or promote your side hustle. It can even be part of your company's brand-building strategy.
More on that in a bit. But first…
How to Change Your Zoom Background
Once you open up Zoom and enter your meeting:
Click on the icon with three dots at the bottom of your screen.
Select "Virtual Background."
Pick one of the backgrounds provided by Zoom, or upload a photo of your own to use.
(Zoom has their own tutorial you can watch here.)
That part's easy! But, you may run into some issues along the way. Buckle up: here's a workaround for every glitch, and we've paved the road to virtual background utopia.
Common Zoom Background Problems
---
1. I'm Melting!
This is the weird phenomenon of "melting" into your background. Zoom doesn't understand what is and isn't the background, so to find an anchor, it just chooses a color at random for the "background"—sometimes, it even chooses your skin tone and replaces that with your background.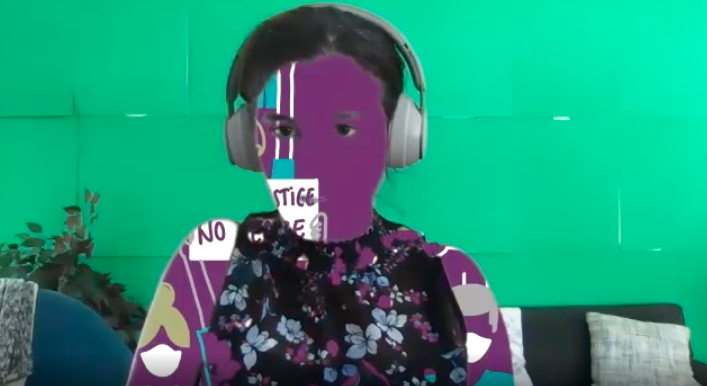 ---
2. I'm Not Good Enough 🙁
This is where Zoom tells you that your system isn't up to snuff.
If you're using a Mac, you need:
4th-generation i7 quad-core or better

A 6th-generation i5 quad-core or better

Mac OS 10.13 or higher
If you're using a Windows PC, you need:
Windows 7, 8, or 10

A 4th-generation i7 quad-core running at 2GHz

Windows 10 and a 6th-generation i5 quad-core running at 2GHz
If you don't meet these requirements, you'll receive a message like this one saying your computer is not up to the job. Don't be discouraged—you don't need to run out and buy a brand new laptop. The story behind the message is that Zoom assumes you'll be using a green screen. And that's where we come in to help you make it happen.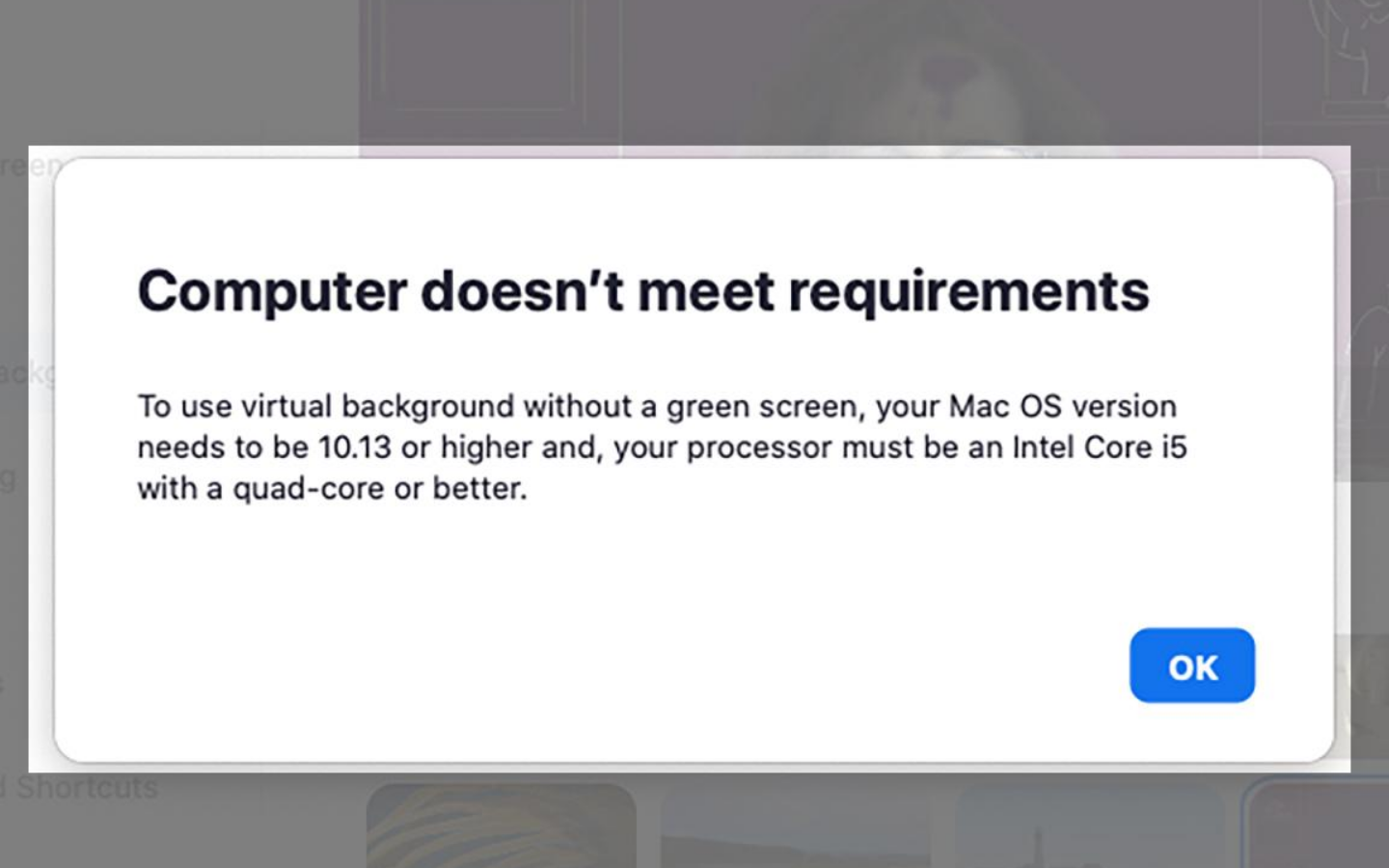 3. I Have an Android
This is when you find yourself, or others, searching and searching for that virtual background option. But, it is nowhere to be found. No, you are not losing your mind. Unfortunately, this feature just isn't available on devices that use the Android OS.
Zoom doesn't explicitly confirm they don't support Android OS, but did say "as of now the virtual background applies only to these devices due to system requirements." We made sure to fact check this with Android Authority who recommends getting an iPad if you want to have some fun with virtual backgrounds.
To help things along, we've put a vote into Zoom support for them to add this feature to a future release—hopefully, sooner than later.
---
The Green Screen Solution
Get ready to use one of the film industry's oldest technological achievements: the green screen.
A green screen is a foolproof, relatively inexpensive workaround. We really like this collapsable one from Fotodiox, so you can easily stow it when you're not in a meeting or shooting a scene from Star Wars.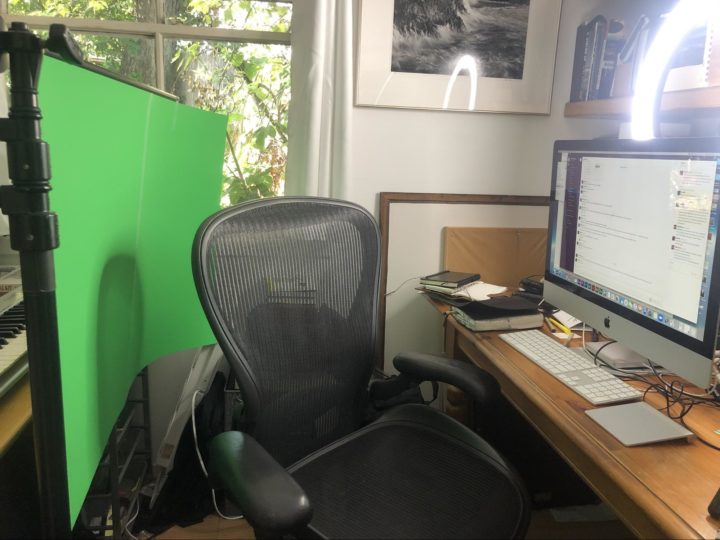 A little more affordable, but requires a bit more set up: this green construction paper from Amazon! And if you happen to have a green bed sheet, that'll work too.
---
Once you've acquired your screen, sheet, or paper:
Tape up the paper or sheet behind you.
Go into your meeting and follow the same steps as changing your virtual background
Check the box that says "I have a green screen."
Remember: Don't wear a green shirt!
(Here's an explainer video for all the options)
---
If you're still melting into the background, while you're in the settings, select "Pick background color" and click somewhere in the green screen.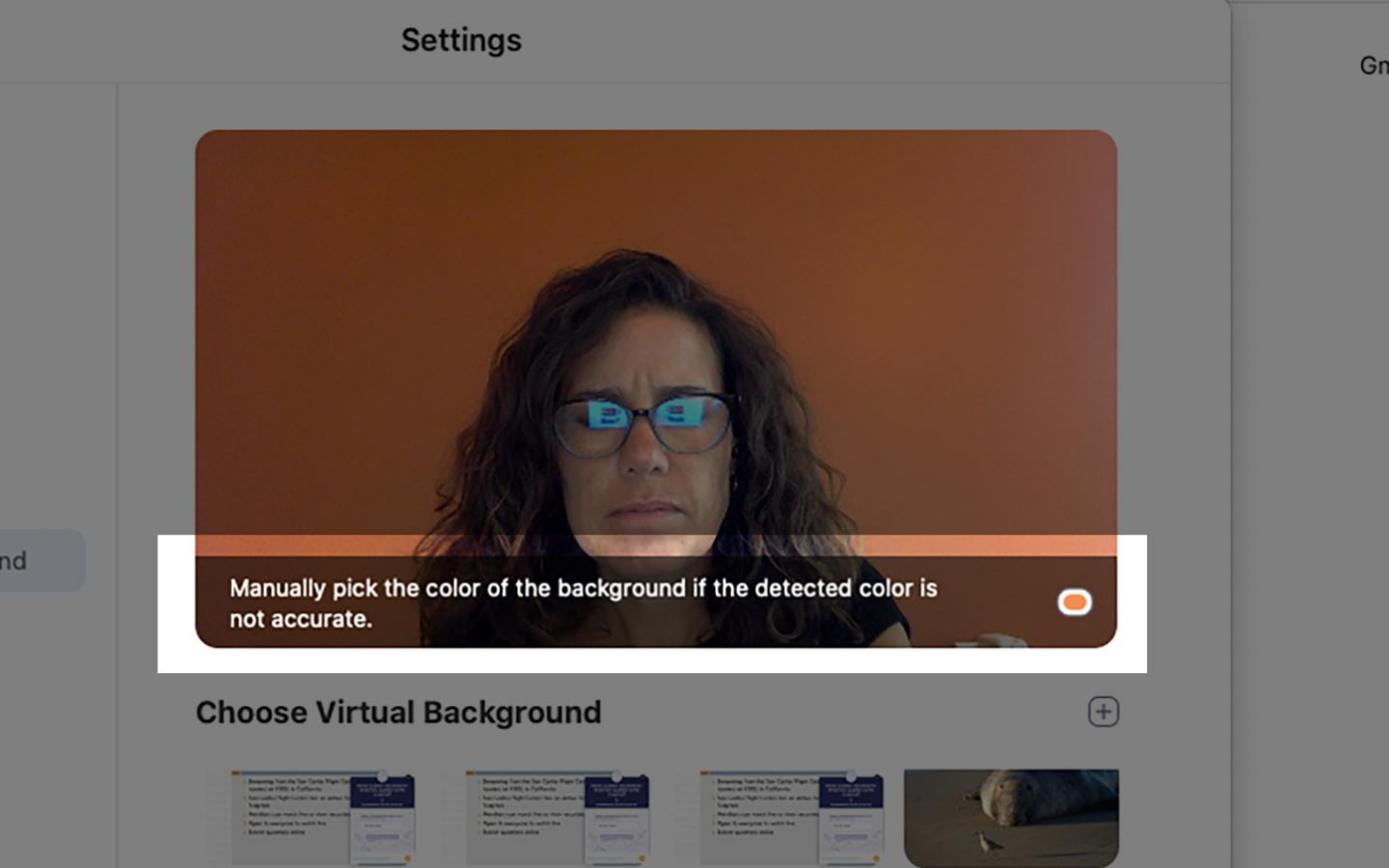 ---
But What Should I Change My Background To?
As we said earlier, this is an opportunity for you to do either some personal brand-building of your own—maybe you're an artist and you'd like to show off your work—or on behalf of your company. Lots of companies have begun offering their own Zoom backgrounds for people to use.
That includes us. At Digital Meaning, we were feeling the effects of quarantine acutely. So, we decided to create some Zoom backgrounds for our team to use.
We also wanted to reflect on the things we missed the most.
And we designed a background to show up for racial justice. With this virtual background, we protest safely (and physically distant) as we are working from home. We also held intentional space for the presenter, to have them be a natural part of the scene instead of blocking portions of it.
We think the final designs are pretty neat, and we've made them available for you to download and use, too.
Or, use anything you like! All you need is a background image with an aspect ratio of 16:9 and a minimum resolution of 1280 by 720 pixels. Here are some other sources for royalty-free images: Pexels, Unsplash, Pixabay.
Remember: Something as seemingly trivial as a Zoom background is another way to communicate with clients and colleagues—another way to find digital meaning.