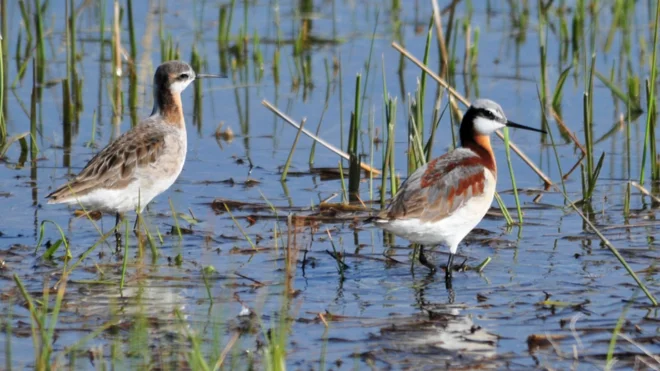 Wilson's phalaropes creating whirlpools. One of the many amazing virtual backgrounds, for the taking, courtesy of Greater Farallones National Marine Sanctuary.
---
The Greater Farallones National Marine Sanctuary's Seabird Protection Network has always been heavily reliant on in-person community events as their biggest source of outreach in their campaign to protect wildlife from disturbances by boaters and pilots. When we talked with them about pivoting from in-person to digital outreach, they quickly saw there was ample opportunity to connect and continue to educate.
The most important goal was to make their online presentations just as engaging as their in-person presentations. Even though they're a mission-driven organization, the ideas here can apply to a host of businesses who've had to pivot in the way they connect with their audience.
I've watched a lot of webinars in the past few months and you did an amazing job of keeping things interesting and engaging.
With so much of everyone's time now spent in virtual events, people are starved for captivating content. And it's easier than you think to keep people from zoning out during the event.
Keep Your Audience Locked In [checklist]
Take questions during the webinar via the question or chat function. Connect with the asker by using their name.
Run polls. Or, even a quiz and offer prizes! Stick to a reliable cadance that your audience can depend on to break up the presentation. People will stay to the end if it means winning a prize.
Wear an interesting, attention-grabbing costume and interrupt with a skit.
Share your social handle and specific event hashtag so people can connect.
Feature an influencer as a special guest: they bring the expertise and prestige. You bring the curiosity and questions to interview them.
Ask them to join your mailing list about once every 20 minutes—you're likely to get more people signing up as they are sitting in front of their computers.
Finally, one of the Sanctuary's most unique and effective ways to connect with their audience is through its jaw-dropping collection of photos. We suggested that they offer these photos as virtual backgrounds! Even just looking at the photos provides a sense of calm and a connection to nature—one we all need in these trying times.