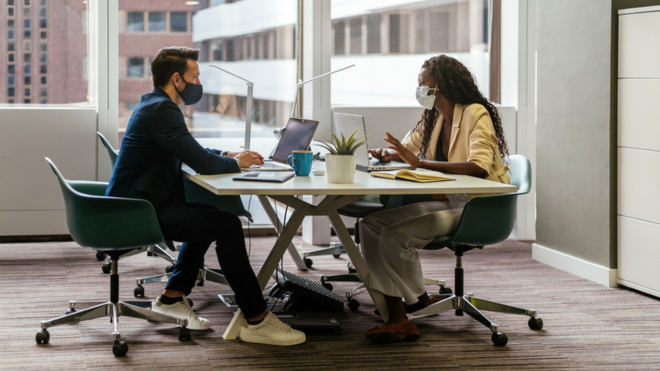 Now that we know what Video Storytelling is and what it can do for us, let's start creating.
Creating a video can be complex. The best way to make sure you get what you want at the end of the process is to plan carefully in advance. This means considering things like who will be in the video, where it will be shot, who will be shooting it, sorting out schedules if you're dealing with multiple people in different locations and so on.
At its most basic, video production can be accomplished by one person with a video camera, some basic lights and a computer and appropriate software. In fact, these days it's possible to shoot, edit and finish using only a smartphone! This person will be able to shoot interviews, basic footage of your facility or office, and edit them together along with simple title graphics.
Although this may seem straightforward since everyone has a smartphone and anyone can buy a camera, it doesn't cancel out the need for knowledge, experience, and a thoughtful vantage point. A camera, a computer, editing software—these are just tools that need competent hands to create something unique and useful.
The most important thing to consider and plan for is an end result, reflecting the key message you want to communicate in your company video.
If you have larger aspirations for your video—you want lots of people, you want drone shots, you want people doing tricks with cars, you want visual effects—you'll need more artists, more equipment, more days on the production side, and more days (and people) on the post-production side, which includes editing, effects, graphics, music and so on.
1. Find a Video Partner
You can start by asking around. See if any of your colleagues or even clients can recommend videographers they've had a good experience with. Go online, search for videographers in your area. Look at their client list. If you're a small company and their client list consists mostly of large companies then they might be expensive, but it doesn't hurt to get in touch and ask.
Importantly, look at their work. Is it professional? Does it reflect the kind of quality standards that your company expects? Is it consistent? If their work is all over the place – some good, some not so good, that's a warning sign. Part of what you're paying for is the ability to deliver consistent quality time after time.
What's vitally important is working with a videographer who starts by understanding what you actually want your video to say. The right videographer can make great suggestions that will plus-out what you've already done and ask questions about areas you might not have considered that can improve your messaging.
2. Figure Out Your Story
If you've done your homework and created a strategic narrative, then you have a head start. If your company doesn't yet have that, then you may have to reverse engineer it. When you're trying to create a video, it's best if what you do is aligned with your company's strategic narrative as well as its brand. That way, your messaging is consistent and your audience won't be confused by multiple voices with conflicting messages.
Without the strategic narrative, everyone at your company with some say in the video content will bring their own biases and priorities to the messaging. When a company has a clear story and identity, creating impactful messaging is simple and straightforward.
It's also helpful to have a Creative Director or Art Director on your video team who can graciously handle all the feedback while making sure that everyone feels heard and keeping the integrity of your planned message intact.
Like all stories, yours should have a beginning, middle and end. Build a compelling emotional case for your product or service and then sign off with warmth. Leave any sort of aggressive calls to action for the graphics on the video and the environment surrounding the video itself, whether it be an email, an ad, embedded in a website of whatever. Remember that people make quick decisions about whether to watch the entire video, so get to the point quickly.
You're relationship building so the central point of video storytelling is to leave your potential customer feeling good about you. For a more detailed discussion and examples about how to create an emotional hook with your video content, refer to Part 1 of this series.
Don't forget that the goal is to help your customers understand what's in it for them. Chest beating feels good, but customers don't want to hear it. If they're going to dedicate a couple of minutes of their busy lives to watching your video, they need to know what they're going to get out of the whole thing.
Once you've got an outline of your video worked out, it's time to discuss it with your videographer.
They'll work with you to get your story to a place where you and your colleagues are happy.
3. Prep for Your Shoot
This step, also called pre-production, is where you go over your shoot in painful, agonizing detail. Everything from wardrobe, locations, schedule, personnel parking and hundreds of other details must be discussed and signed off on.
Don't be afraid to ask questions or assume anything. Your goal here is to be sure you understand exactly what is going on and that your expectations and the expectations of the video crew are closely aligned. On the day of the shoot, what may seem like a simple request to you may require a lot of unanticipated time that wasn't planned for in the original budget.
Even the simplest shoot will have unexpected problems. You've already put in the work to anticipate as much as possible beforehand, so when day-of challenges crop up, you can pivot and find a solution quickly. Trust your video team, they want to keep your project on time and on budget.
Shoot days tend to move quickly, particularly if the crew needs to move around to many locations. It's exhausting, but it can also be exhilarating! It's worth taking some notes so that you can let the videographer know if there was something you heard that you thought was great or something that you don't want to be included in the video for whatever reason.
Which brings us to Video Storytelling 3, where we'll talk about the post production process and finishing your video. The more guidance you can give the videographer for the post-production and editing process, the better.