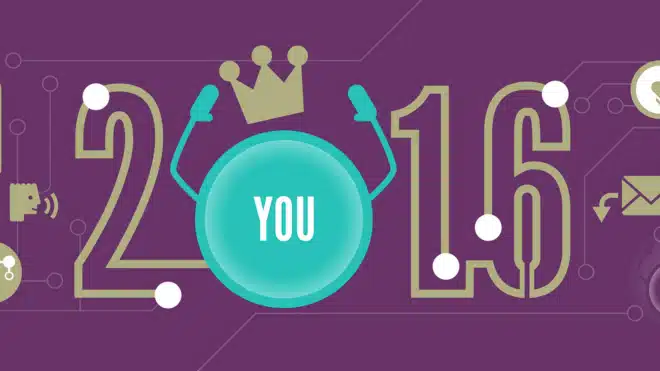 Don't put these things off another year. Your business can't afford to wait.
If you're serious about putting your business ahead of the competition in 2016, these are the three things you simply can't procrastinate on any longer if you're looking to improve and optimize. You even have an extra day this month, with 2016 being a leap year. The clock's ticking—so it's time to get started.
1. Embrace the Mobile Mind Shift
First things first: If you don't have a mobile-optimized website, time's up. In 2015, Google announced that mobile traffic overtook desktop traffic in 10 different countries. It was also the year they released the "Mobilegeddon" algorithm update to favor sites that look good on mobile screens; a mobile-only site with no desktop counterpart is perfectly acceptable. With more mobile-driven algorithm updates already in play this year, there's a real possibility that sites not optimized for mobile will be phased out altogether.
Search itself has changed and gotten more sophisticated: we don't just type; we ask digital assistants like Siri or say "Hey Google" and get instant contextual answers, not just on the web but from your hard drive—based on your history of searches and habits of them (time, place, type of query).
And this mindshift is going to play out in a lot of ways you probably haven't even considered yet, like app indexing and app streaming. Those are just like they sound: you'll find apps in search instead of just the app store, and be able to access them as you would a website, instead of downloading first. These trends are still very new, but expect to hear more about them in the next couple of years.
2. Establish Automated Email Workflows
Forget what you keep hearing about "the death of email." It's not dead. It's still the highest-performing digital marketing channel. It's just matured from being a shiny tech toy to an institutional must-have, just like a tax ID number.
What's also evolved, however, is how email newsletters can be used—and many businesses may not be aware that they can use them for more than just serving as an advertisement in the inbox. Sure, email leads to clicks, impressions, and top of mind awareness. But using it like this doesn't necessarily lead to sales and conversion.
So how can email newsletters build those? Through automated workflows.
Automated workflows are souped-up email marketing campaigns that can be triggered by behavior or demographics; or a purchase or lack thereof, in cases of customers who have gone dormant. They're personalized to reflect a customer's purchase experience, messaging preferences, and interests.
Maybe you've seen these subject lines in your own inbox
Come back for 20% off! We miss you


(when you haven't bought from a business in awhile)

Your shopping cart has abandonment issues


(when you haven't completed an online purchase)

Thanks for checking out Product A


(when you've looked at something but not put it in your online shopping cart)

It's time to re-order


(when you've purchased something consumable like contacts in the recent past)

Ready to review [product name]?


(a couple of weeks after you purchased something)

New arrivals from a brand you love


(when you have a consistent purchase history with that brand)

Customers who love Brand X also love Brand Y


(when a business wants to demonstrate they know what customers like you want)

Thanks for downloading our whitepaper. Attend our next webinar


(when a company wants to lead you to the next step in their conversion funnel)
These are just a few examples of automated email workflows that pursue the sale and follow-up transactions that generate more business and loyal customers.
These take more time and strategy to set up, let's be clear. But the potential for higher conversion and sales—and increased customer interest and delight—makes the effort worth it.
3. Get into Influencer Marketing
You're already on Twitter, Facebook, LinkedIn, Instagram, Pinterest and even Periscope. Fabulous. And you hopefully generate content and interact with your customers in a two-way dialogue; that's also great. But posting and responding to comments is also the bare basic minimum you should be doing as a twenty-first century business.  This year, you need to use social media to be strategic about who's talking about you.
Digital Word of Mouth
Now, it's all about digital word-of-mouth: turning influencers into advocates to talk about you positively. 84% percent of all B2B purchases start with a referral, according to Nielson.
Having a marketing referral system in place that tracks referrals and rewards your biggest advocates who put in a plug for you–online or offline, in print, or networking on the go—has now become essential. When you need to rise above the noise and the crowd, it's an effective way for influencers, customers, and prospects become your most ardent fans.