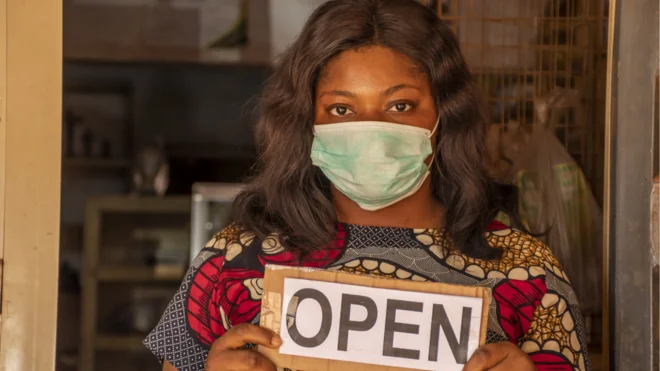 A business blueprint for rebooting, reopening and regenerating in a challenging year.
In April, I published the Coronavirus P.U.N.C.H List, which gave companies five steps to take as extended shelter-in-place mandates proliferated across the country. Now, as we approach the halfway mark of 2020, businesses nationwide are considering some manner of reopening. This may be a restaurant welcoming patrons to their dining room, a medical professional seeing patients in-person, or a corporate office bringing employees back on-site.
Unfortunately, the second half of 2020 does not look to be easy to navigate. Covid-19 cases and hospitalizations are on the rise in most states, there is continued racial and social unrest, unemployment will remain high, and we have a turbulent election to look forward to in November. Businesses must delicately balance reopening and getting back to work within a continued environment of fear, tension and unknowns. How they navigate that balance will define their success for many years to come.
I like to look at this next phase of the economy as 2020 2.0. Whether you're a corporate CEO or a small-business entrepreneur, the game plan you had at the beginning of 2020 has probably been thrown out the window. For the first half of the year, people and businesses were in survival mode — staying safe, paying rent (hopefully), and just keeping their heads above water. As we enter 2020 2.0, here are some key ways businesses can move into "thrival" mode while still respecting the challenges of a tense world.
1. Confront the "New Normal"
Your employees, your vendors, and your customers are worried. Make sure they know you understand their concerns, and boldly display steps the organization is taking to keep people safe. Post what you're doing inside for employees to read and outside for your customers to see. Add it to the top of your website and mobile app, and in your email communications. I love how Uber has made their safety protocols front-and-center on their website including an additional element in their top navigation: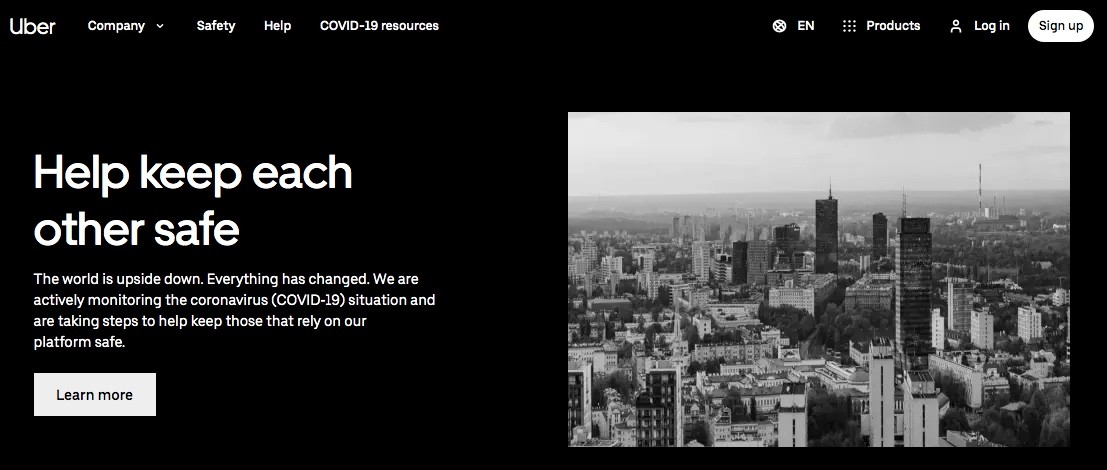 You should also create a simple feedback mechanism for staff and patrons to share suggestions on making in-person transactions and interactions as comfortable as possible. Need ideas? The U.S. Chamber of Commerce has a great guide to re-opening here, including ways to prepare employees for reopening and restructure office spaces to keep everyone safe and sane.
Finally, talk to your employees about the possibility of customers who may be upset by new rules and restrictions like mask requirements in your restaurant or store. Prep them to fairly enforce the rules, de-escalate potentially combative situations, and not take the occasionally crappy customer too personally.
2. Embrace Diversity
On the heels of the horrific murders of George Floyd, Breonna Taylor, and other African Americans at the hands of law enforcement, our country and the world has been reminded of our society's massive racial divide and challenges that face us. Many businesses have been quick to show support for Black Lives Matter in their marketing. Some large corporations like Bank of America have pledged significant investments toward fostering more diverse leadership and consumer brands like Quaker Oats are reconsidering racist brand images like the one below.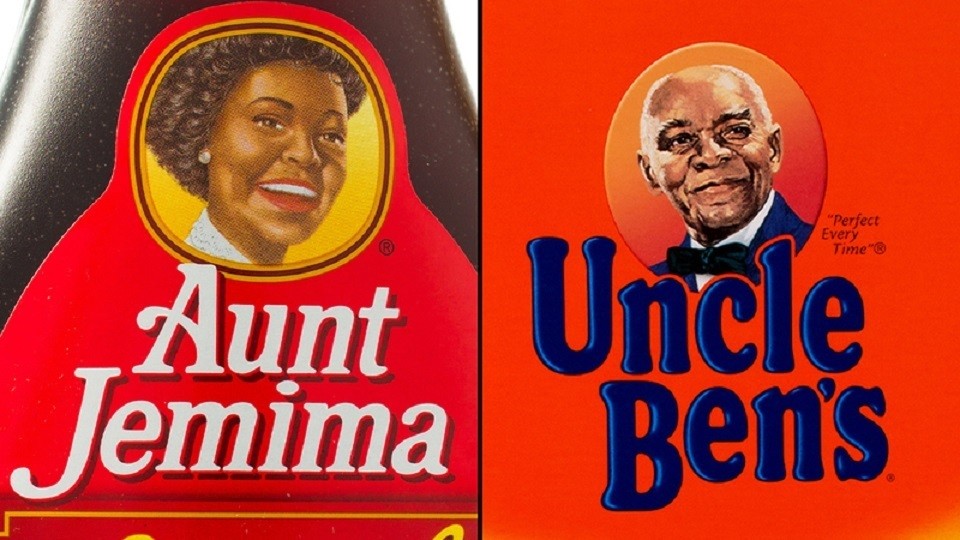 But this is an opportunity for any organization, small or large, to pay more than lip service toward being an inclusive brand and culture. Take the time to speak with your employees about what's going on in their personal and work lives, and really listen to their concerns. If you or your HR team don't feel comfortable facilitating these conversations, Google "diversity equity and inclusion training," to identify outside resources. This is a great checklist for how to make a real transformation in our corporate culture.
Remember that diversity is not just about race—it's about everyone in your organization—regardless of gender, color, background, age, disability, or identity—feeling heard and empowered, knowing that their voice has real impact. When they are, they'll be happier for it, and the organization will reap the benefits of a work culture that supports everyone reaching their full potential.
3. Get to Know Your Customers (Again!)
You may feel you know your customers inside and out and have set up your business and products to cater perfectly to their tastes. But America's habits have changed in the past few months. Coffee shop regulars are making their own whipped coffee. Gym rats are purchasing Peletons and doing Zoom yoga. Avid international travelers are planning summer staycations.
Check in with your customers to see what they're into. Put together a little Survey Monkey questionnaire. Maybe even jump on the phone with a few of your brand's devotees. Do you notice some shifts? If so, shift your business to meet their changing needs—this may include new product offerings, membership options, hours of service, menu items, and more flexible return/exchange options.
Airlines have maintained future bookings by becoming more flexible about cancellations and mileage expiry dates. Amazon has extended their return windows worldwide. If your business caters to families with kids, they are hungry for any options to deal with cabin fever after three months at home. San Francisco has started offering small-group, safe outdoor camps. Even gathering for virtual classes online can help the boredom: Blue Dragon Karate in New Jersey has kept existing customers happy—and gotten a few new ones—with their virtual buddy sessions.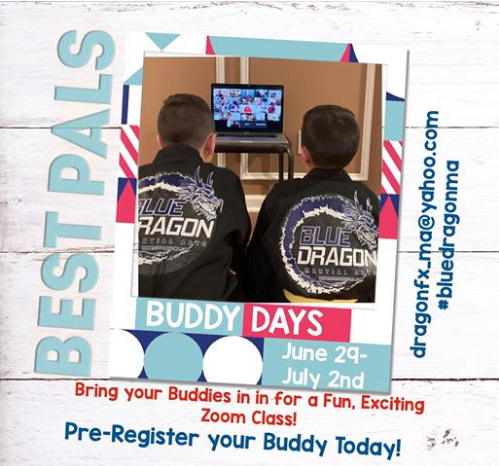 4. Turn New Events Into New Customers
Your customers—and more importantly, your competitor's customers—are behaving differently than they were at the start of the year. They're working from home, baking sourdough, watching documentaries, taking long walks, and getting deep into DIY projects. How can that translate into more business for you? Are you noticing more foot traffic by you in the last few weeks? Turn them into new customers with some creative sidewalk signage. Make sure your window displays and upfront merchandising complement the new behaviors mentioned above.
You can also experiment with some inexpensive web marketing to mine opportunities in your category. For example, in the restaurant industry, CNBC's MarketWatch estimates that 41% of Coronavirus-related restaurant closures on Yelp are permanent, including beloved institutions like Specialty's in San Francisco, Toast in Chicago, and the Copacabana in New York. Try to get in front of patrons searching for alternatives to their favorite hotspots. SEMRUSH is a good place to monitor online web trends and smart ways to target ads. Take the time to test the waters with some new customer segments which may end up paying big rewards as the economy recovers.
5. Have a Heart
There are so many communities hurting right now, you probably don't have to look further than your own neighborhood or city to see where you can make an impact. If you already have a corporate philanthropy arm, redouble your efforts to support them during this tough time.
If you don't, what are you waiting for? Work with your employees to identify a worthy organization that is aligned with your company's mission and values. Beyond philanthropy being the right thing to do, it will make your employees feel more engaged and supportive of the company's goals. Share the positivity with your customers and they will feel even better about supporting the company and may even want to join in the goodwill.
An example: I'm a fan of the HQ daily trivia app. Since they've started supporting pandemic-related causes, like José Andrés's World Central Kitchen, I feel even better about playing each day. HQ also makes it very easy to donate within the game, and you can even assign your winnings toward the charity of your choice. Unfortunately, my winnings thus far have only totaled $1.25, but any future prizes are surely headed toward a good cause via HQ Donate.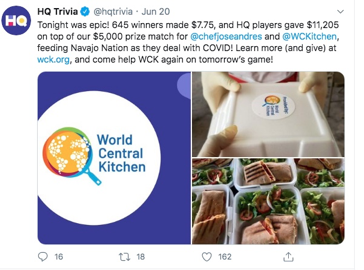 6. Have Some Fun
Everyone is exhausted from all the dos and don'ts of the past few months. And if you're thinking about creating another somber PSA with a slow, piano soundtrack, please: don't. This awesome AdAge montage shows how tired that that direction has become. Instead, why not have some fun while respecting the fact that we're not out of the woods yet? A little humor can go a long way in relieving employee and customer tension. San Francisco, for example, has made it easy for kids of any age to figure out social distancing with visuals like these: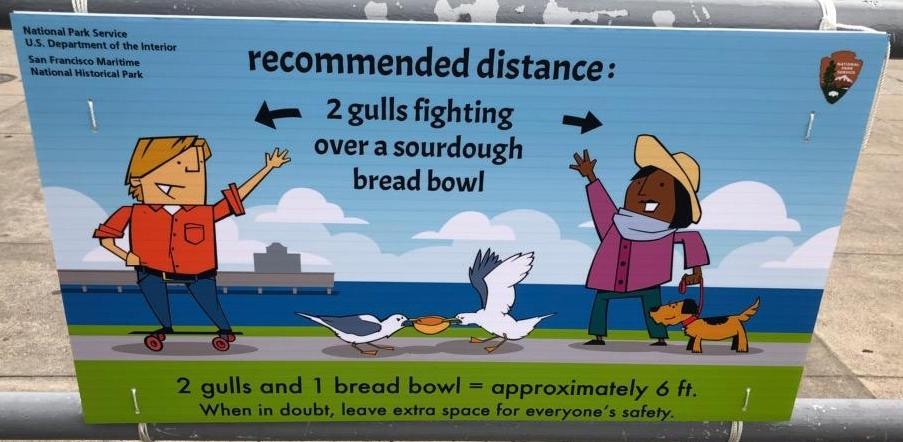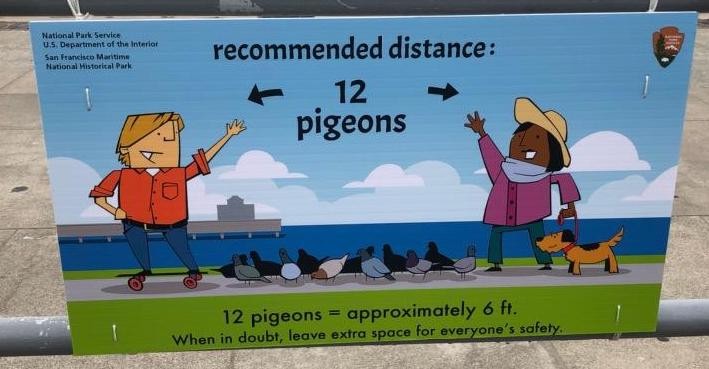 This Texas restaurant is getting famous for its fun quarantine messages: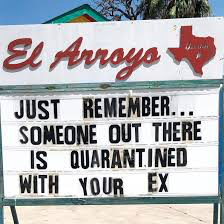 You can get just as creative with store windows and emails. Or use your social media channels to share some fun ways your employees or customers are dealing with quarantining. If you're a retail store, see if you can find some fun, new merchandise to add to your product mix. Just make sure the humor is not insensitive, and appropriate for your type of business.
Finally, remember to breathe. There is no perfect way to navigate this next chapter of your business life. And there is no rush to make big changes. Listen to your team. Listen to your customers. Look forward with optimism. And show 2020 2.0 how it's done.