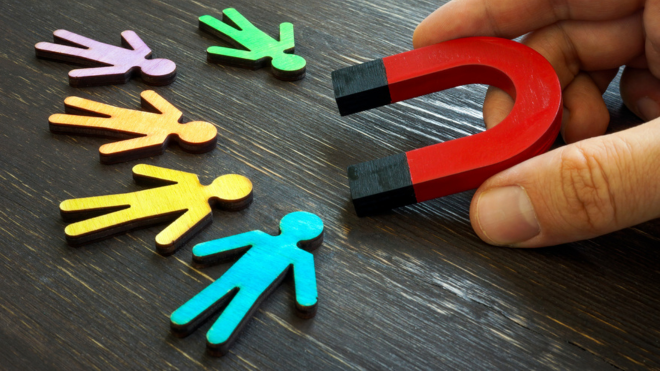 What B2B Marketers Can Do to Help HR Resolve Recruitment Challenges
After a shutdown and much pause, followed by months of high workloads, employees aspired for blue-sky thinking and pondered the purpose of work. People are now leaving their jobs at the highest rate in two decades, spurring a "Great Resignation," also coined a "Great Rethink."
What's more, a 2021 analysis found that the emerging candidate-driven economy is especially inspiring for mid-career professionals. While leveraging their newfound power, they're setting themselves up for more personal and professional satisfaction than ever before.
This shift for knowledge workers led to major challenges for recruiters and employers. There is a distinct gap in the talent pool, which, coupled with the need to have a competitive edge and keep remote employees engaged, is a tall order.
However, what may seem like an HR-only problem can also be solved with proven marketing tactics.These five digital marketing practices will help you get started.
1. Personify Target Candidates
Digital Meaning calls this targeting an "Audience Bullseye." Hiring efforts should include identifying the company's target candidates, as well as anyone else who may have influence over the decision.
Creating the "Audience Bullseye" also includes creating a profile that outlines unique behaviors, preferences and psychographics of each potential candidate's group.
Some Areas to Consider:
How candidates would find out about the company and job opportunities
Challenges they face in their current job
Seeking remote, hybrid or in-office work
Need for childcare during work
Aspects of a job or career most important to them, personally and professionally
Who in their personal and professional circle influences their job preferences
Non-compensation factors—culture, purpose, values & perks—they consider essential in their employment decisions
It's okay not to know the answer to these questions right off the bat—just ask. Talk to recent hires about their hiring journey, preferences, and pain points. Remain adaptable around these challenges and needs as you learn more about the real people you're hiring.
2. Reveal Company Differentiators
Employees want to work for a company they're excited to be a part of. As the lines between "work" and "personal" lives continue to blur with culture-first organizations becoming increasingly popular, candidates' priorities and their expectations of employers have also shifted. For instance, social issues are more important than ever in finding the right employer fit among younger jobseekers in the Millennial and Gen Z generations.
Having a clear understanding of exactly what sets the company apart, what the company stands for and what it's like to work there will help it appeal to these needs.
Take a look at:
Sustainability initiatives the company adopted.
Diversity, equity and inclusion efforts, whether that's regular training or events.
Charitable giving and the causes the company supports financially.
Competitive benchmarking is key for this step. Giving a clearer view into what the company is compared with and how it stacks up. For example, researching competitors' and industry leaders' social presence and discovering what kinds of perks they offer. See what everyone else is doing, then figure out how to stand out while remaining true to your brand.
3. Showcase Authentic Content
With the majority of candidates using social media to find out about or research potential employers, social media channels serve as a "window into company culture."
Use that window to bring the story about what sets your company apart to life for your target personas in meaningful ways. The goal is to stand out: break through the noise with content that fosters excitement and employee advocacy.
Company culture videos starring team members shining a unique, positive light on the company will get a candidate's attention. (Just make sure employees have provided consent before showcasing them in public videos and images).
Robust and inclusive job posts will subtly advocate for the company and provide a peek inside what it's like to be a part of the team. Use both a copywriter and content writer. Copywriters can concisely entice target audiences to apply for openings by using the same tone and voice used for other marketing efforts. Meanwhile, content writers inform, entertain and instruct to drive organic traffic.
A mobile-friendly application process—think social videos—will empower applicants to creatively and authentically demonstrate their skill sets and increase the number of people who successfully complete the application process.
4. Find Hiring Messaging Opportunities
A key component of recruitment marketing is seamlessly incorporating it into the organization's existing marketing messaging strategy. Leveraging channels and contact points that are already active is crucial for effectively reaching target applicants.
Some ways to accomplish this are:
Communicate open positions across the organization.
Sales and Customer Service can be beneficial for this. A customer who has a memorable experience may be a fantastic hire who knows the products first-hand.
Consider the company's email lists.
Of previous candidates, past employees, and even customers. When more professionals are looking for a career change, people who may not have been a fit before may be an ideal match for where they are now in their career path. People on these lists can also be a valuable source of referrals—so don't count anyone out!
Use existing email marketing touchpoints.
A company newsletter is a perfect place for a "We're hiring" message and will connect with potential talent already aligned with your company's mission and purpose. Include any high-value company news, or new benefits added, too.
5. Optimize Over Time
Building on discoveries and learnings over time remains the best way to optimize digital marketing tactics. Committing to continuous iterations will progressively result in increased performance.
First, set KPIs and establish a baseline for them. Include metrics like applications received, interview conversion rate, turnover rate, positions open and cost of talent acquisition.
Be deliberate about the KPIs you choose. Otherwise known as success measurements, KPIs quantify the impact of each marketing tactic and drive future marketing decisions. Put tracking mechanisms in place to identify the source, medium, campaign and message for application submissions as well as expressed and implied interest.
Then, iterate.
Muse. Research, learn, get inspired. Formulate ideas for message variations, visuals and new channel opportunities.
Test. Start with a hunch, a hypothesis, and turn it into a question and control the controllables.
Evaluate. Keep what's working, let go of what's not.
While optimizing, it may also be time to re-evaluate old recruitment habits and screening practices and realize a pipeline of untapped talent who are #readytowork.
The Greater Return
Recruitment challenges facing organizations today can be weathered with a focus on organic growth through social media engagement. Having an active online presence will build brand trust and, in turn, show prospective employees what it means to be a part of the organization. Prospective customers will connect with the company's reason for being—driving and retaining business. And the company's job pool will grow organically, with a selection of people who resonate with the company, and help provide a better return on recruitment spend.