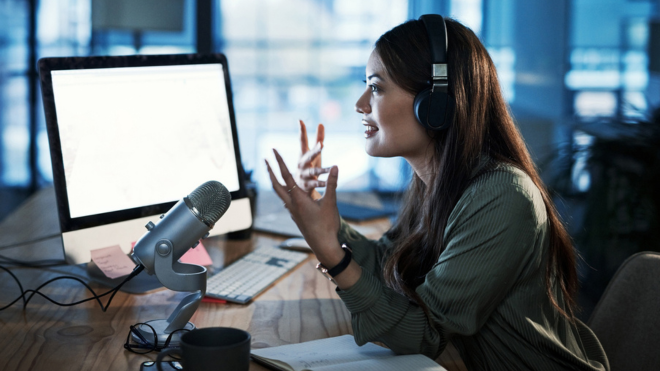 Over the past decade, influencer marketing has become a valuable part of digital marketing strategies. If B2B marketers continue to perceive influencer marketing as a consumer-only effort, they will miss the opportunity to realize untapped funnel growth and conversions.
Here's why: we already know 84% of all B2B purchases start with a referral. Neilson also reported, 92% of consumers trust people over brands. Most recently Takumi reports, "with social consumption up significantly, influencers are more influential than ever."
If you haven't explored a B2B influencer marketing strategy yet, now's the time. The odds are in your favor that centering your B2B marketing strategy around influence will greatly improve your bottom line.
---
What is B2B Influencer Marketing?
In the complex world of B2B purchasing, professional networks are everything. Before signing that PO or subscription contract, buying teams want to hear from sources they trust that the product or service they're about to buy will actually benefit their company's effort.
A B2B influencer marketing strategy involves identifying the influencers of your target audience, building partnerships and relationships with them, and creating messaging designed to be shared or adopted easily into their channels.
Although it may feel impossible, finding your influencers may be easier than you think.
Get this. You already know them as your customer advocates and brand champions, your strategic partners, and even your own employees. These are your happy and rabid supporters who speak highly of your company to their netowrk easily and often.
From customers to employees, each 'community of influencers' likely has at least some touchpoints with your potential buyers. An influencer strategy designed to guide these touchpoints can lead to major business benefits.
4 Core Benefits of Influencer Marketing
Many of the B2C benefits of influencer marketing apply in B2B as well.  In fact, they tend to become more nuanced, providing even more tangible value as you look to build your promotional communications strategy.
Build Messaging Credibility. The most basic benefit of influencer marketing in any environment comes from human psychology. When we make complex decisions, our brain looks for shortcuts that help ensure we choose right. It's why we tend to take the word of people we trust on recommendations. In B2B, funneling your message through influencers that your potential buyers trust can build credibility and position you as a thought leader and expert.
Unlock New Target Audiences. While successful businesses identify influencers based on their current audience, spreading brand messaging through these same influencers can also unlock new audiences in the process. Anyone who deems your customer advocates, employees, or strategic partners credible will pay attention to their (and, by extension, your) messaging.
Increase Customer Retention. The close connection of B2B influencer marketing to concepts like customer advocacy doesn't just drive leads, but also improves customer retention. Active efforts to continue "selling" your customers in order to turn them into influencers, along with the messaging they themselves receive from other influencers, minimize the chances of churn.
Optimize Your Marketing ROI. In part because of all the benefits listed above, focusing at least part of your B2B marketing effort on an influencer strategy tends to pay off. But mostly because of the powerful role of social media and influence has proven to have on public opinion.
---
How to Define Core Influencers
Because your target audience consists of business buying teams, finding B2B influencers is naturally different from its B2C counterpart. The key is to find individuals that decision makers in your target businesses are listening to and find credible. Those influencers can exist in a number of environments:
Employees, especially those active on social media or with a strong professional network.
Happy customers who are willing and ready to become customer advocates on your behalf.
Existing strategic partners across the supply chain, or with an identical target audience, with whom you partner on messaging and marketing initiatives.
Industry influencers, who are considered experts in their field by your target audience.
Finding your community of advocates and champions requires some research. For example, a survey of your current customers, asking them to list their greatest influence when making purchase decisions, can give you a good idea of potential influencers in your space.
---
Where B2B Influencers Influence
One part of defining your audience is casting a net in the channels your potential buyers tend to frequent. Employees, customers, strategic partners, and industry experts can all share their thoughts on a number of channels:
Social media networks, especially professional networks like LinkedIn but also Twitter and Facebook Groups.
Industry podcasts, either as hosts like Kelly Campbell's Thrive podcast or as frequent expert guests.
Speakers and workshop hosts at industry conferences like DreamForce.
The list goes on. Once you find the right influencers, pay close attention to the channels they frequent. That helps to round out your definition of potential partners to maximize your reach and credibility.
---
How to Create an Influencer Marketing Strategy Designed to Drive Business
A few simple steps can help create the basic outline of a strategy designed to drive your community-led growth efforts.
Define your goals. What types of customers are you looking to convince, and where in the funnel is reaching them most effective? The more specific the goals are, the better.
Identify your channels. Based on your target audience and your industry, some channels make more sense than others. The key to success may be an ad on a popular influencer's platform or a collaboration on the blog of your strategic partner.
Tailor your messaging to your influencers. Employees, for example, require a very different approach than happy customers you want to turn into advocates. Personalization, and the ability to outline the benefits of working with you to your influencers, is key to getting their collaboration.
Build a mutually beneficial relationship. For customers, that might mean providing incentives for promoting your content or referring other businesses to you. Strategic partners see you as much of an influencer for them as they are for you, so offering to spread the word about their brand can go a long way.
Measure everything. B2B marketing is inherently measurable, and working with influencers is no different. Through vanity and tracked URLs, you can track each lead and customer conversion from your influencer traffic. Over time, that helps you optimize your efforts to work with the right influencers on the right messaging.
There are many telling examples of the power of B2B Influencer Marketing.
Cisco created a Champions program that encourages anyone from employees to happy customers to become brand advocates. In exchange, they get insider access to new products and software.
Microsoft teamed up with National Geographic on a campaign designed to spread the word about women in STEM.
All you have to do is take the leap and start. Once your B2B influencer program gains traction, who knows what opportunity will present itself next.