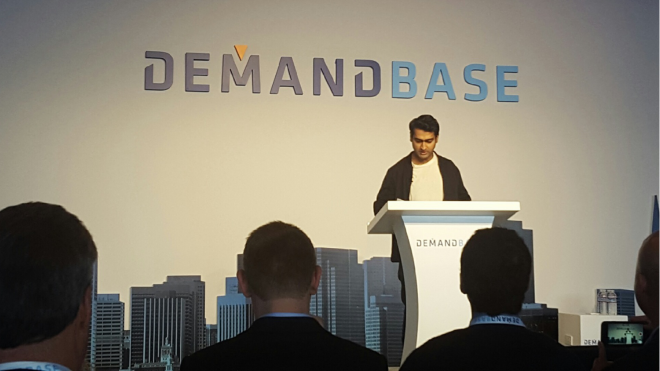 Inspired by the B2B Marketing Innovation Summit
"My dream was to generate leads when I grow up," says Kumail Nanjiani, more famously known as the character Dinesh from the wildly popular HBO comedy "Silicon Valley." Surprise, surprise, it was a joke. Dinesh isn't really a hacker and knows nothing about coding, let alone digital marketing.

From the quote above, you can see that he did a great job trying to relate to all of us B2B marketers eagerly awaiting his appearance at the end of the B2B Marketing Innovation Summit we attended on April 27th. So, starting backward, the last thing I learned at this conference is that Dinesh actually started in stand up.
Ok, now starting from the beginning. Here's what I really soaked up from this day filled with messages about Account Based Marketing, or the ABM revolution.
1. Digital Marketing is now Marketing
"Digital is no longer a descriptor or category. Digital is just the world we live in," Chris Golec, founder of Demandbase said during the opening keynote. It's true, there's no longer a distinction between digital marketing and marketing. As marketing has evolved, technology has evolved with it. As Steve Masters commented on How to Find Digital Meaning for Your Organization: "The place to be is where your audience is—and that's online." To drive this point home, even more, Laura McLellan from Gartner reports that the CMO will spend more on IT than the CIO by 2017.
2. Marketing must enable Sales
The Sales and Marketing battle has gone on since the beginning of time. Well, the 1990s, when marketing really took off. Most organizations, especially B2B, which were around before 1997 are historically sales focused. Sales have ruled the world since the start of business, until now. The true definition of marketing: "Activities of a company associated with buying and selling a product or service. It includes the entire customer lifecycle from pre-awareness to customer advocacy—that includes Sales." ("Marketing Definition | Investopedia", 2005). Translation: Marketing includes sales, so it is time to get back to its true definition.
So, what happened? How did Sales and even Marketing activities become so disconnected?
Whatever the reason, the #ABMRevolution says this must stop now. It is time to get back to Marketing with a holistic business plan, not separate strategies. While it's not easy, here are some ways to get started:
Marketing should willingly work with Sales rather than coming up with a separate plan.
Go on an offsite. Plan a Sales and Marketing retreat to understand each other's goals
Keep the lines of communications open between sales and marketing. Have an understanding of what makes a lead sales-qualified.
3. Creating addictive products is a science
Nir Eyal's best-selling book "Hooked" breaks down the success of products we can't live without.
About 40% of what we do daily is purely out of habit, according to the "Hooked" author.
Have you ever wondered why we find it so easy to scroll? Or why we are so addicted to dominant apps like Facebook, Twitter, and Insta?
The Hooked model breaks down these must-use experiences with a four-step process. The ones that work are designed to connect the user's problem to your solution with enough frequency to form a habit.
4. Train sales on social networking
Forget Always Be Closing. The new ABC of Sales is: Always Be Connecting: Marketing continues to evolve. Sales organizations that have not evolved are still selling the same old way they did before the empowered buyer.
"The modern buyer is: digitally-driven, mobile, empowered, and socially connected" (Jill Rowley). They don't trust marketing messages the way they trust other people. Modern B2B buyers look up their sales reps on Linkedin, and ask their peers for recommendations. It's time to sell the way people want to buy—through their trusted networks.
5. Build your own identity network
While dominant networks like Facebook are all about people you already know, identity networks are about people you don't know (yet). But people who share an interest and who come together to give back to one another. These are the greatest opportunity for creating a forum to get the word out for your business. Examples are: Nextdoor, Houzz, and Own it.