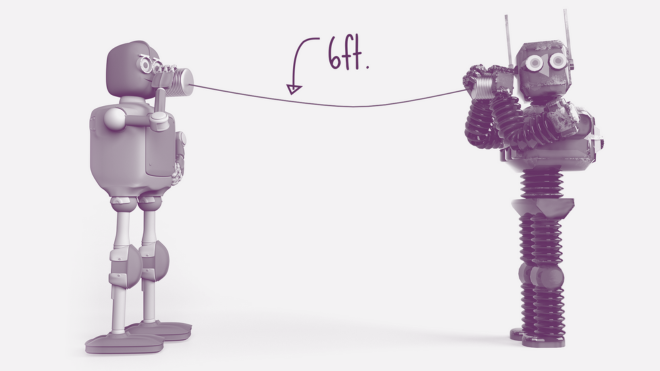 Smaller, often resident-run, Home Owners Associations (HOAs) don't always have the luxury of a property management company to lean on when the going gets tough. It may feel scary to step up and lead during a crisis that is much bigger than ourselves or our building. At the same time keeping the flow of communication open is more important than ever.
At bare minimum people need to know things like: which services they can continue to expect, what problems to watch out for, such as overflowing bins and plumbing, and what the building is doing to keep things clean.
Most importantly, they need to know who to contact if someone needs help. This type of guidance is in line with how any other business operates where people are in close proximity to one another.
To offer a little help, we tapped into our own digital marketing services to write an email that informs residents about what's going on and how everyone can work together to keep the building safe. Another pro tip is to set up a Slack workspace to keep an open dialogue going among owners and residents about #buildingmatters.
Dialogue allows us to set clear expectations and boundaries with one another—like giving each other the appropriate 6 feet of space when using the elevator and entering/exiting the building. It opens the door to realizing issues that may arise and putting solutions in place. And, it's the best approach to creating a way forward. How else can we be #inittogether if we don't talk?
Here's the sample letter for you. Adapt it or your own situation to keep the dialogue going during crises like Covid.
---
Dear Residents —
How are you holding up? Hopefully you are hanging in there while we are all sheltering in place and getting enough rest, exercise and work done. As we all get used to the new normal, your HOA team asks for your help and cooperation with a couple of minor building-related items.
Remain Vigilant.
There are scams preying on people during this time, for example people are pretending they are sent by the authorities or the HOA to sanitize or inspect the building and people's units. It's important that everyone in the building remain vigilant and not to give anyone access to the building or to any unit. Services that people should expect to be on-site now are:
Janitorial service once a week
Pest company once a month
Bin service that comes in the early morning Tu, Th, Fri currently
PG&E once a month
Coinmach to collect coins from the laundry periodically
Trash/Recycling/Compost.
Our trash and recycle/compost services will remain on the usual new schedule. With the new rotation, we have noticed the bins are getting fuller faster. Please do your best to flatten all cardboard boxes and compost as much as possible. We need as much space as we can get for all the trash/recycling/compost we expect to see appear in the next few weeks with everyone home.
Plumbing and Paper Products.
Let's do our best to avoid issues with wipes and other items clogging our pipes. We kindly ask that you only throw toilet paper down the toilet. All wipes, q-tips, cotton balls, paper towels, napkins, personal hygiene products etc. should be thrown in the trash. Even if the wipes say "flushable" they could still cause an issue with how many people we will have home using the facilities. If it is not toilet paper, throw it away!
Physical Distancing. It's OK to say 'hi'.
Health experts are promoting the idea that we increase our physical distance from one another in order to slow the spread of the virus. It's OK to connect with your neighbors who you may see around the building.
However, since the elevators do not give us as much space as we need for social distancing, it is highly suggested in buildings like ours to practice the "one person or one household at a time" rule. This means waiting for the next elevator or taking the stairs. Accordiing to the CDC, the rule of thumb is to give each other at least 6 feet of space.
Helping Neighbors in Need.
Headed out on a grocery run? If you can add a couple of items to your shopping list, or even make a supply run, for any fellow residents in need, please email [full name] at [email address], leave a note on [unit number], or just print out this postcard and put it on your neighbors door.
If you or anyone in your family who lives at [physical address] needs help, please contact [full name], and they'll do their best to put you in touch with a volunteer.
Also, Nextdoor has created a Help Map for those in need to reach out to neighbors outside of our building who have raised a hand to assist with an errand, or just give a call to check in.
In case you aren't already, stay up to date with
local alerts from [your] County by texting XXXXXX,
situation updates from the [your] County Public Health Department,
updates from [your city],
the SF Chronicle California Tracker that's compiling an exhaustive list of every case in CA,
the most up-to-date local news, take a look at Live Updates on what is happening in California and the Bay Area.
Thank you for your continued patience, consideration, and understanding as we all work and live together through this unprecedented situation.
Please feel free to call or email us if you have questions, want to offer suggestions how we can nurture a sense of community (at an appropriate social distance, of course), or just want to chat.
Also, we've created a new #Slack workspace for our building—use this link to join, it only takes a minute.
Best,
[HOA President/Landlord]