"Media literacy is a repertoire of competences that enable people to analyze, evaluate, and create messages in a wide variety of media modes, genres, and forms." —
as defined on Wikipedia
This post is aimed at explaining how social media share buttons are confusing people's understanding of copyright and intellectual property (IP). 
First, let me say that Media Literacy (including a basic understanding of copyright) needs to be taught to every person before they graduate the 9th grade. Think of it as driver's education before a license to drive, this fundamental class should be taught before students get in too deep with being online.
"Media literacy is not just important, it's absolutely critical. It's going to make the difference between whether kids are a tool of the mass media or whether the mass media is a tool for kids to use."
Linda Ellerbee, producer/host, Nick News
While Media Literacy, per se, does not directly combat the problem stated here, it's teachings would give one pause to think about how we are using it (better yet, how it is using us.) So, why is it not taught in schools? Everyone from Big Media to Big Brands and even Big Marketing don't want your children to go through Media Literacy courses, or else they would question the branded soda machines at school, the ads on TV, promotions, and (*GASP*) even the "Share" button on our web pages. In short, it makes their job harder when people start to quoestion.
When I was a kid, we were told that even photocopying a logo was illegal, and we envisioned storm troopers breaking down our bedroom door because we were creating our own paper stickers from album cover artwork. Then, in print shop, we learned that we couldn't screen or print copyrighted materials, and we had a class on what that entailed. Today, kids and students see a "share" button or link before they ever learn what copyright or intellectual property (IP) is. See, click, type, click, done. And because of that concept, Pinterest is embroiled in a lawsuit from IP owners. And it is my guess that the vast majority of Pinterest users don't understand what the problem really is, because to understand it would hurt their ability to pin, and their fairytale Boards would just get too real.
The problem lies in ignorance, and 24×7 access to digital media.
What is the difference between clipping images from magazines and pinning them to a board in your room, versus pinning them to your Pinterest board? Also, what is the difference between using the Twitter or Facebook logo/icon on your website, versus using the Pepsi or Coca-Cola logos as a background on said website? A lot. Everything from copyright law to an implied acceptance of the messaging is at stake with each post.
It's all around us. People see the Twitter icon used virtually everywhere. It's on websites, marketing emails, billboards, and even on product packaging. It has now ubiquitous for the ability to share the message or see the brand's Twitter timeline. So, when that person is creating their own website or CD artwork for their band, they grab "Larry" the Twitter bird (more likely a custom-designed one), slap him on the site/CD and say "Follow us!", because that is what everyone else is doing, especially the big brands.
When artists like
Alex Clare posts their entire CD for listening on their website
, it confuses most people:
if he posted it for me to listen to for free, why can't I repost this on my website?
If I were to embed it into my site, Alex would likely tell me to remove it. Why? Posting content on the web is not me giving up my rights to the work,
even though I ask you to share it on Facebook
. Huh?! Exactly. This is why Media Literacy really needs to be taught early on.
Fair Use… Rights Managed… Copyright… Parody… What?!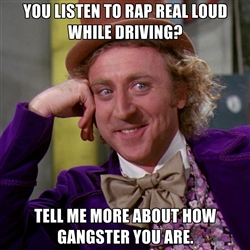 I can share photos from a website on Facebook, Twitter, Pinterest, and the sharing mechanism never once asks "Do you own this?" For years, people go on sharing images and text and posts, and since they spend the majority of my online time with social media, they surmise that this is the way the world works: I share images and text to promote my interests and ideas; I click Like to say 'I agree!' They then get a job and are asked to source some images for a production-ready project, and they turn to Google for assets. A knowledgable project manager asks about the images and freaks out. I have seen this happen on numerous occasions involving an intern or recent grad, or worse, a person working in the industry for years. The look on their face tells it all: they had no idea they were in the wrong, for they can't see the difference in using images on Twitter, Facebook, a blog post and a promotional email. It all looks the same to them. The waters get even murkier for users when they see brands use their Tweets and Facebook posts as reviews (and ads) in their marketing efforts without asking for permission. And the rampant creation of memes (see "Condescending Wonka" meme above), and ecards using images from films and old drawings. I create; they share; what's the big deal?
Twitter recently upadted their Content and Display Policy regarding their brand (logo, name and intent.) I am going to admit that even I have used and created Twitter icons that fall outside these guidelines. Why? Because as designers we feel that the social media icons needed to match the brand, and so we created custom icons to 'fit in' with the design. It's pandemic in the industry. Is this right? No. But, years later, there are huge repositories of social media icons for use in your marketing efforts, and no mention in the media of Twitter or Facebook stopping them from doing so. The learned response is that this is ok with social media companies. (Correct me if I am wrong here. I would love to see where Twitter and Facebook are stopping this.)
But everyone is doing it!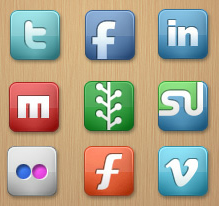 Creating cute and inviting social media icons that match a website's or brand's style (as seen in Elegant Theme's icons to the right) makes it easier for people to incorporate the sharing/connective function. The more people that connect to Twitter, the bigger their user base and the more eyeballs on ads (a major factor in their success.) If Twitter cracked down as hard as say Coca-Cola does on their IP infringements, fewer people would use their icon in marketing efforts because colors may clash, size constraints may be too much, and other factors. If Twitter turned a blind eye for a web-minute and let people run amok, they gain huge support for the sharing/connecting function and their user-base skyrockets. Not to say they are doing this, but no designer or company I know of has ever received a cease and desist letter over their social media icons. (Again, correct me if I am wrong here.)
Same goes for Facebook, Pinterest and others. They all heavily (and some totally) rely on sharing, and even customizing, content. If those companies cracked down on users sharing or customizing their logos that drive visitors to their parent site, they are in effect teaching Media Literacy and copyright law, and that is a very bad thing for social media companies to start doing. A passive-aggressive approach of posting logo and branding guidelines on their site actually benefits them in the long run by quietly allowing people to customize the link/button, but also have the legal hammer in their backpocket, should they some day need it. But, it does make understanding IP a lot harder for individuals.
Twitter and Facebook rely heavily on their being a recognizable button/icon for sharing and connectivity. So, ask yourself this: if proper use of, and protection of, the Twitter, Facebook or Pinterest brand was really important, why is information about it so hard to find on their website? Visit the Twitter website and try to find the branding and logo guidelines from the home page (not using Google Search.) Do the same with Facebook and Pinterest. (Albeit Pinterest is a bit easier to find) how long did that take you? Would you make the effort? Again, if sharing their logo/brand in a faithful manner is a priority to share/connect, why are the guidelines not more prevalent? Maybe a "Get the Like button here" message to lead users to the proper place to get the sharing function and proper icons.
The glaring industry omission…
Also, compare the footer copyright info of the Coca-Cola website to Twitter, Facebook, YouTube and Pinterest. On Coca-Cola you see "© 2011 The Coca-Cola Company, all rights reserved. Coca-Cola®, 'Open Happiness', and the Contour Bottle are registered trademarks of The Coca-Cola Company.", plainly stating that you are not to mess with name, logo, or iconic shape of their brand. This is an overt declaration of brand protection. On Twitter, Facebook, YouTube and Pinterest, this kind of statement would hamstring their efforts in sharing, and open up legal problems, so they simply opt for footer copy such as "© 2012 Twitter", "Facebook © 2012", "© 2012 YouTube, LLC" and, well, Pinterest doesn't have one (interesting…). Also notice that on numerous social media websites "all rights reserved" is clearly missing here (again, interesting omission.) A better way for them to do this would be to add a link right after the copyright for "Get the latest approved icons and sharing buttons" taking users to their branding guidelines and educating them.
In short…
To sum it up, social media today is teaching kids, students and grandmothers alike that they have the ability to copy and share anything with anyone, while news media and courts tells them that sharing certain documents, music, movies and even homemade videos of roommates is illegal and punishable. And in the past year they think about all the documents, and music, and YouTube videos, and home movies they have shared over social media and become confused: Why that and not this? It literally all looks and acts the same to them, for no one has taught them the difference.
We need to ramp up Media Literacy education in our schools and in the workplace. The Media Literacy Project has an amazing and free downloadable PDF "Introduction of Media Literacy". I highly recommend this to everyone, even those that took a Media Literacy course in the past. I was even reminded of the Straw Man (page 12) and Card Stacking (page 11) techniques we see so often in this ramp up to the election.